Our Team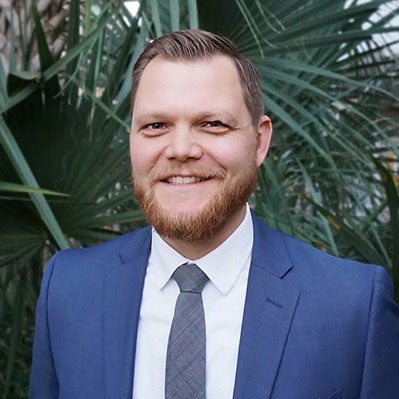 John A. Williams (he/him)
Digital Information Accessibility Coordinator
John joined the Learning Environments team in February 2019. As the Digital Accessibility Coordinator, he supports all members of the Rice community who create and share public and academic digital information.
John has over a decade of experience as a technology facilitator. He holds a Master of Science in Learning Technologies and Instructional Systems Design and his background is in the Humanities. John is also a certified accessibility specialist through the Texas Distance Learning Association (TxDLA).
Schedule a 30-minute consultation to learn more about individual and group training opportunities, or email john at a11y@rice.edu.
Learning Environments (LE)

Learning Environments is a dynamic department of three core teams working to support teaching and learning technologies across the University.
Contact Learning Environments at teaching@rice.edu or call 713-348-4989.
Teaching & Scholarly Learning

The Teaching and Scholarly Learning team provides front-end support for all enterprise applications used in online and blended courses, including Canvas, GradeScope, Kaltura, Zoom, Poll Everywhere and more.

The Learning Spaces team provides front-end support for all classroom technology, including Crestron panels, monitors, cameras, microphones and more.

The Student Systems team manages and maintains the student enterprise resource planning system, as well as other services related to room scheduling, course management, financial aid and more.
---
Collaborating Departments
Disability Resource Center

Email: adarice@rice.edu
Phone: 713-348-5888
The Disability Resource Center assists Rice students, faculty, staff, and visitors with accommodation requests to help ensure equal access and opportunity. The DRC Director is the ADA Coordinator, as well as the chair of the Strategic Committee for Accessibility.
Center for Teaching Excellence (CTE)

Email: cte@rice.edu
Phone: 713-348-2929
The Center for Teaching Excellence seeks to transform teaching through mentoring, innovative practices, collaboration, scholarship, and advocacy. The CTE actively engages faculty, staff, students, and community partners, and brings them into conversation to achieve excellence in teaching and learning.
Rice Online Learning (ROL)

Email: riceonline@rice.edu
Phone: 713-348-8700
Rice Online Learning furthers the University's commitment to teaching and research excellence by delivering quality education in and beyond the classroom. ROL works hand-in-hand with faculty to drive the latest innovations in digital education to ensure unsurpassed teaching and learning in a digital environment.